The launch of 3D ThinkLink classes at AMIkids Savannah River in Sylvania, Georgia, is an exciting step forward for The YouthQuest Foundation's 3D printing project for at-risk youth.
Our 3D ThinkLink Initiative uses instruction in 3D design and printing as a vehicle for teaching critical thinking and problem solving, building confidence and encouraging creativity. Since 2013, we have served more than 200 at-risk kids in Maryland, Virginia, South Carolina and Washington, DC.
Along with reaching another state, the expansion to Georgia gives us the opportunity to work with a new kind of at-risk student population.
"This has enormous potential to help change the course of these students' lives and education," said YouthQuest Director of Instruction Tom Meeks.
AMIkids Savannah River provides a home for unplaced teenage boys in the foster care system who struggle with behavioral problems, academic challenges, legal troubles and other issues that have led to repeated placement failures.
"Traditional methods of isolation and punishment for misbehavior are not suitable for kids in these circumstances. The AMIkids approach puts the kids' needs first and provides them guidance and opportunities many of them haven't had in the past," according to the AMIkids website.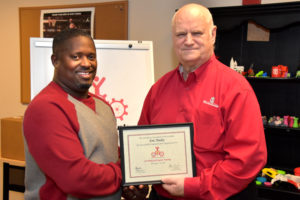 We've seen how our 3D ThinkLink curriculum can be tailored to meet the needs of various at-risk groups. It was created for National Guard Youth ChalleNGe Programs, which serve high school dropouts, and has been adapted for teens with autism at the PHILLIPS schools in Northern Virginia and for low-income kids in the Horizons Hampton Roads summer enrichment program.
Students might be at AMIkids Savannah River for years, much longer than the 22-week residential program at ChalleNGe Academies, so this is a chance to extend their learning beyond our introductory course into advanced 3D design.
"It's an opportunity for us to explore the benefits of our project in a semi-permanent residential setting and it challenges us to create follow-on education programs," explained Tom, who anticipates more time for science-based activities, using different kinds of 3D printing methods and materials.
AMIkids staff member Eric Tinsley completed 3D ThinkLink teacher training at our Chantilly, Virginia headquarters in February and is leading the project in Georgia.
The missions of our organizations are closely aligned. YouthQuest and AMIkids both work to break the cycle of failure for at-risk teens. Our 3D ThinkLink Initiative helps them understand that failure is part of the learning process and mistakes are opportunities to make changes that lead to success.
As the program's website puts it: Even kids with a troubled past have the potential to achieve a bright future, and AMIkids Savannah River works every day to separate their troubled past from a bright future.