YouthQuest's dream is for all the young people we reach to become successful adults who give back to their communities.
That's why Youth ChalleNGe Cadets in our 3D ThinkLink classes are required to complete a community service project. It's why we're training students to use their 3D printing, critical thinking and problem solving skills to serve their communities as Youth Mentors.
And it's why we support the Step Up Loudoun Youth Competition, which challenges teens to give back by solving problems in their communities.
The goal of the annual event presented by Loudoun Youth, Inc. and Loudoun County Parks, Recreation and Community Services is to encourage, support and reward teens in Loudoun County, Virginia, for making positive changes in their own lives and the lives of others. YouthQuest has been the primary prize money sponsor of the contest since 2012.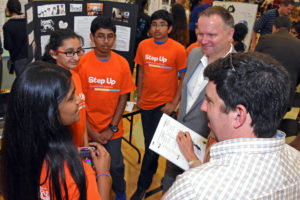 Eighty teams submitted ideas last fall and 40 gave presentations during preliminary judging on March 27 at Trailside Middle School in Ashburn. Ten were chosen for the finals, held on April 5 at The Club at One Loudoun. More than two dozen local business and community leaders, including YouthQuest Director of Instruction Tom Meeks, volunteered as judges.
The students choose the issues and develop the projects to address them, so Step Up gives adults a fresh view of the world through the eyes of the next generation of leaders. This year, the environment, physical and mental health, education, bullying and traffic were among the students' concerns.
The topics often are a reflection of current events. After a year filled with news about hacking and other cyber-shenanigans, Kriti Ganotra from Broad Run High School came up with the idea for Call of Security. She earned the $1,000 top prize in the Step Up contest by developing a free device that detects computer network vulnerabilities.
Loudoun County is home to the East Coast's version of Silicon Valley. Up to 70 percent of the world's Internet traffic moves through data centers in the Dulles Tech Corridor, so a breakdown in Loudoun's network can have widespread impact, Kriti explained in her presentation to the judges.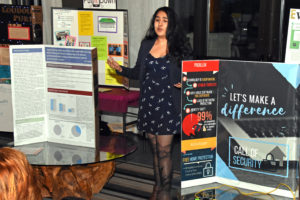 Kriti went online to research vulnerability scanning systems and find open-source code, which she modified to create a program that checks for weaknesses in all devices connected to a router by wifi, even TVs and appliances. Then she tested her scanner against Nessus, a leading professional service.
"Nessus is a vulnerability scanner used by the DoD (Department of Defense) costing about $50,000 a year and I found out my machine actually performs better than Nessus," Kriti said in an interview with Loudoun Youth.
"I want to bring it to Loudoun County, using high schoolers to create a community where everyone is educated about cyber-bullying, cyber-security, cyber-threats and technology," she added. "I want to bring this to every single house and eventually patent this into something that we can develop all around the nation."
This year's $750 second-place project was inspired a different sort of technological threat — the potentially deadly mix of smart phones and Northern Virginia's notorious traffic congestion. The Put It Down team of Freya Panchamia, Saumya Sharma, Paras Sarjapur and Iyush Hoysal from Eagle Ridge, Mercer and Stone Middle Schools targeted the dangers of distracted driving by encouraging people to sign a pledge not to text while driving. They've reached more than 200 drivers so far and plan to continue the project.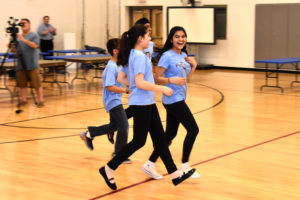 "We know that we're making a significant impact on Loudoun County because we've reached out to many people and we've gotten many pledges," said Freya.
The Clean Kits team of Palak Shah and Areej Khan from John Champe High School made it to the top ten last year and went home with this $500 third-place prize this time. They have provided personal hygiene and sanitary products for homeless women in Loudoun and Fairfax Counties and Washington, DC, since last year.
"The reason we chose to tackle feminine hygiene is because people are afraid to talk about it. People are afraid to donate these products because they feel uncomfortable buying them," Palak said. "The thing is, these are simple products that all women need."
The Every Voice Heard project won the $150 fourth-place prize. Isabelle Nikkho and Tammy Niyomtes from Harper Park Middle School, responding to a recent rash of teen suicides in Loudoun, created website to raise awareness about depression and suicide and provide resources. They also raised funds for the American Foundation for Suicide Prevention.
The remaining six finalists all won $100 prizes for their projects.
Be Me for a Day – Anna Nguyen from Broad Run High School created "day in the life" videos to help students and adults choose a profession.
Clean Up Beaverdam Creek Reservoir – Lacey Tanner from Rock Ridge High School organized cleanup events and raised community awareness about protecting the reservoir.
Environment Rescuers – Shiril Yedhara, Rajul Vadera, Mira Warries, Keerthi Dasoju from Rock Ridge High School raised awareness among local students of the global water crisis.
Loudoun Purity – Priyanshi Jeevagan and Ananya Gahlot from East Ridge and Stone Hill Middle Schools organized a 3K walk to raise money for hygiene kits for people at the Leesburg Homeless Shelter.
Personal Teach – Ari Dixit from Stone Hill Middle School created a program with a voice interface fpr the Internet to help students improve their scores on standardized tests.
UnSalted – Taylor Jackson from Riverside High School developed an app to help students reduce stress.
Learn more about Step Up Loudoun Youth here.