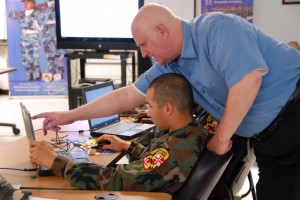 We launched our STEM (Science, Technology, Engineering and Math) project to teach 3D printing because it supports The YouthQuest Foundation's goal of providing vocational training for at-risk youth. What we didn't realize when we started the program is that 3D printing also teaches these teens the life skills they need to succeed.
"3D printing is not an end in itself. It's a means to an end, and that end is to grow our brains," explains YouthQuest Volunteer of the Year Tom Meeks, who taught the class at Freestate ChalleNGe Academy.
The former junior high school teacher is passionate about 3D printing. As soon as he heard about our plan for the project, he says, he knew he wanted to be involved because it "offered a way to encourage students to be more creative — to learn about thinking."
"When we learn how to think and we learn how to be creative and use our brains in different ways than we normally use them, then we can use that in any part of our lives," Tom says.
That's the lesson we learned from the eight Freestate ChalleNGe Academy Cadets who recently completed our first 3D printing class at Maryland's Aberdeen Proving Ground.
Learning Through Failure
"It's not about making cheap plastic parts. That's the first thing I tell people about 3D printing," says Tom. "It's about being able to come up with a vision and then realize that vision in some concrete way."
"And the most important part of that process is learning to fail."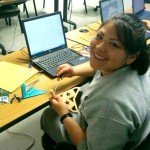 The Cadets in the STEM project were all too familiar with failure. They were at the Freestate Academy, which is part of the National Guard Youth ChalleNGe Program, because they'd made the mistake of giving up on school. Besides the general lack of motivation that's typical in adolescents, these kids were in trouble because of substance abuse, pregnancy and many of the other problems that are common for at-risk youth. The Academy was, as Tom puts it, "their last chance."
Although the cadets were "extremely excited" about being chosen from among more than 100 classmates to take part in the project, says Tom, they were "afraid to fail." They had failed often in the past – and had given up.
"In 3D printing, what they learned was it's OK to fail as long as you see that failure as a way to make changes and go on to success. And that's what they did over and over again," Tom explains with a smile.
"They didn't gripe about the failure. They looked at it, they analyzed it and then they learned how to make corrections in the design so that the next thing they printed was going to be closer to what they envisioned."
Life-Changing Lessons
A few weeks ago, as they prepared to graduate from Freestate, the students met with Tom to talk about what they'd learned in the 3D printing class.
"Every one of them said that it changed their life in some way," he recalls, "It changed their attitude toward life, the way they looked at life, the way they were going to go forward and meet challenges in the future. Every one of them."
The class changed Tom's life, too. In fact, he calls it the highlight of his career.
"It was so neat to see the changes that were happening in their lives and the enthusiasm that was happening in their lives. It was just emotionally uplifting for me in a big way," Tom says. "So it didn't matter how far I traveled. It didn't matter that I was losing some money at work. What mattered was I'm a part of something really important in the lives of these kids. I expect to see big changes in their future because of this one class and all the other things that the ChalleNGe Academy does."