It's always exciting to take our 3D ThinkLink students beyond their classrooms and show them some of the many ways they can use the CAD (computer-aided design) and 3D printing skills they're learning.
In October, for the first time, Vocational Orientation for Cadets from Maryland's Freestate ChalleNGe Academy and DC's Capital Guardian Youth ChalleNGe Academy included a visit to Terrapin Works, the University of Maryland's 3D printing center.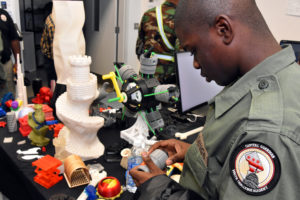 Terrapin Works encompasses a collection of digital design and production resources located throughout the College Park campus. The equipment ranges from consumer-grade 3D printers like the ones our students use in class to highly sophisticated, specialized systems that can print objects using all sorts of materials such as plastics, metal, ceramics and even living cells.
The University of Maryland tour included a stop at the Fischell Department of Bioengineering's Tissue Engineering and Biomaterials Laboratory, where 3D printing helps scientists develop materials that can be implanted in the body. The lab has hosted Vocational Orientation events for us since 2014 and our students are always fascinated to learn how researchers combine life sciences and engineering to create things like bone and blood vessel replacements.
After a busy morning in College Park, the Cadets headed north to Baltimore to spend the afternoon at The Foundery, an industrial makerspace that's another favorite Vocational Orientation destination.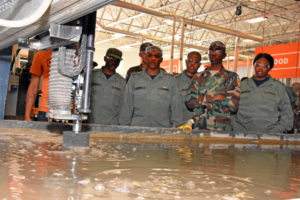 At The Foundery, our students see how their knowledge of CAD software gives them opportunities to work in traditional subtractive manufacturing fields as well as the new realm of additive manufacturing. Whether they're working with a desktop 3D printer, a laser engraver or a giant industrial cutting machine, it all comes down to giving a computer-controlled device the instructions needed to make the object you want.
Even more important for our students than learning about the various machines they saw during Vocational Orientation was meeting the people who use those machines to turn ideas into reality. It was gratifying to watch the personal interaction between the Cadets and the staff members at UMD and The Foundery.
These tours are intended to open the eyes of at-risk teens whose view of career opportunities is often quite limited. By exposing them to new ideas and experiences, we encourage them to see themselves going on to do things they didn't think were possible. Whatever their goals may be, the thinking skills our 3D ThinkLink Initiative teaches will help our students achieve them.