YouthQuest's 3D ThinkLink Initiative will be on display at America's largest celebration of STEM, the USA Science & Engineering Festival, April 26-27 in Washington, DC.
Students and teachers from the 3D design and printing classes the Foundation sponsors at Freestate ChalleNGe Academy and Capital Guardian Youth ChalleNGe Academy will participate in our interactive exhibit, "Better Thinking Through 3D Printing."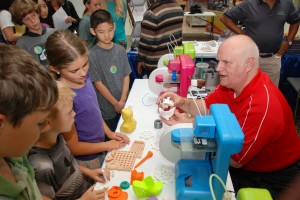 Our 3D ThinkLink Initiative helps teach at-risk youth to think differently and solve problems creatively so they can make better decisions as they enter adulthood. The Freestate and Capital Guardian Cadets at our booth will be telling visitors what they've learned and showing how they use software and hardware to turn ideas into 3D-printed reality.
Our strategic partner 3D Systems is teaming up with us for this event. We will have neighboring booths at the Walter E. Washington Convention Center. We'll also use the company's Sense scanners and Sculpt modeling software to capture 3D images of booth visitors and put their faces on coins and cameos created on the spot by 3D Systems printers.
The bookmark/rulers we'll be handing out at our booth will show visitors how to try 3D printing themselves. By going to a page on our website, they will be able to create customized rings and tags using 3D Systems' online Cubify tools.
If you're going to be in the Washington area April 26-27, please visit us at Booth 1136 in Exhibit Hall A of the Convention Center from 9 am to 6 pm Saturday and Sunday.
The USA Science & Engineering Festival is FREE and open to all ages.
USASEF is a national grassroots effort to advance STEM (Science, Technology, Engineering, Math) education and inspire the next generation of scientists and engineers. This third annual event will bring together hundreds of the leading professional scientific and engineering societies, universities, government agencies, high-tech corporations and STEM outreach and community organizations.
More than 250,000 K-12 students and parents, 5,000 teachers and 3,000 STEM professionals are expected. They'll experience more than 3,000 fun, hands-on activities and 150 stage shows featuring science celebrities such as Bill Nye the Science Guy, Dirty Jobs host Mike Rowe, physicist and visionary Michio Kaku and the Grammy-winning band They Might Be Giants.
The festival will include a Career Pavilion and College Fair for high school students.
Visit this link to plan your day at USASEF: http://www.usasciencefestival.org/