Young Leaders: Meet the 2013 Step Up Competition Winners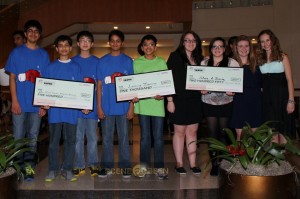 The YouthQuest Foundation is proud to sponsor Loudoun Youth, Inc.'s annual Step Up competition.
The 2013 contest winners visited YouthQuest headquarters this summer to talk about their projects.
Anoop Hariharan from J. Michael Lunsford Middle School won the $1,000 first prize for creating Learning Instantly, which uses entertaining educational videos he and his friends produce to help students prepare for Virginia's Standards of Learning (SOL) exams.
The second-place finishers, Aashish Batheja, Raghav Saravanan, Robin Jiang, Harish Sundar from Lunsford Middle School, won $500 for Mission Possible: Knock Out Bullying, a campaign to reduce bullying in their school and community.
Courtney Latourrette, Torie Alfonso, Kristen Langley, Courtney Davis of Briar Woods High School were awarded the $250 third prize for Share A Smile, a program that encourages people to practice random acts of kindness and serve as community volunteers.
Step Up encourages middle and high school students in Loudoun County, Va., to identify an issue facing local teens, create a plan to address that issue, and implement the plan. The result is a tangible experience that sets apart the participants as action-oriented, can-do young adults with the self-motivation and determination to make a difference in their community.
YouthQuest awarded a grant to fund the awards for next year's Step Up competition to Loudoun Youth CEO Jared Melvin during the Foundation's charity event in August, the 8th Annual Challenge at Trump National Golf Club.