Vocational Orientation is an important part of YouthQuest's 3D ThinkLink training because it shows students some of the ways they can use the skills they're learning in class.
In April, 3D ThinkLink students from Maryland's Freestate, the District of Columbia's Capital Guardian and South Carolina Youth ChalleNGe Academies visited businesses and universities to:
Deepen their understanding of 3D printing technology;
Learn about career opportunities in related fields;
Meet people who use 3D design and printing in their occupations;
See teamwork, creative thinking and problem solving in action.
At the Rock Hill, S.C., headquarters of our 3D ThinkLink Strategic Partner, 3D Systems, the South Carolina cadets learned about 3D printing's explosive growth in areas ranging from medicine, automotive and aerospace engineering to fashion and entertainment. Director of Corporate Communications Tim Miller led a tour showing the full line of 3D Systems products and explaining the special applications for each machine. The students, who have only simple, desktop plastic-extrusion 3D printers in their classrooms, were amazed by the variety of printing methods and materials available.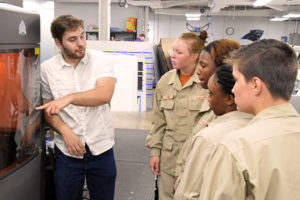 The SCYCA students began their Vocational Orientation Day with a visit to a business that uses many 3D Systems products in its work with civil engineering clients, Duncan-Parnell in Charlotte, N.C. The staff showed them some of the latest 3D printers and talked about jobs available for operators who have the skills to produce high-quality 3D models. Applications Engineer Camren Summerlin also encouraged the students to consider repairing and maintaining 3D printers as a career.
The day wrapped up in Columbia with a tour of the University of South Carolina's Department of Mechanical Engineering. Graduate Director Dr. David Rocheleau explained how mechanical engineers "make things and break things" – analyzing the strengths and weakness of materials in research to create better, safer products. In addition to 3D printers, the students saw engineering tools such as a wind tunnel, a century-old milling machine and a huge device that can cut through practically anything using a high-pressure stream of water.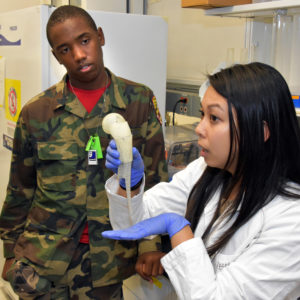 The Maryland and DC students learned about 3D printing's role in a very different kind of engineering during their visit to the University of Maryland in College Park. They met Laurie Bracaglia, Charlotte Piard, Bao Nguyen and other graduate students in the Tissue Engineering and Biomaterials Lab who are developing innovations such as human bone replacements. The researchers use 3D printing to build delicate forms around which bone cells will grow. The cadets took part in hands-on demonstrations of an emerging technology that would have seemed like science fiction not so long ago.
Our students also discovered how 3D printing fits into the invention process when they  toured Prototype Productions, Inc., in Ashburn, VA, another 3D ThinkLink Strategic Partner. Chief Operating Officer Italo Travez and his staff explained that everyone at PPI – designers, engineers and machine operators – share ideas and work together to find innovative solutions to customers' needs.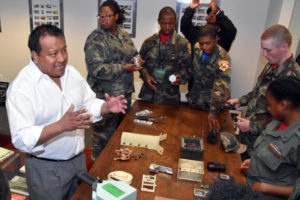 Mr. Travez, who emigrated from Ecuador with his family when he was a child, also shared personal stories about what drove him to become a mechanical engineer and how he and his brother, Joe, built their small family business into a state-of-the-art prototyping operation that has developed hundreds of products.
There was even a side-order of innovation during a lunch break at Topgolf Loudoun in Ashburn. Director of Sales Cassandra Taylor led a tour of the facility that puts a high-tech spin on the traditional driving range. Players hit golf balls embedded with RFID (radio frequency identification) chips into targets equipped with sensors that read the chips and send the scoring data back to the players. Although most of the cadets had never touched a golf club, they had fun giving Topgolf a try.
The at-risk teens in our 3D ThinkLink classes typically have a narrow view of the world and their place in it. Many have never been to a high-tech workshop or a major university campus. These Vocational Orientation events help open students' eyes to what's possible for them as they plan their next steps into adulthood.