The YouthQuest Foundation has sponsored the Step Up Loudoun Youth Competition since 2012 and every year, the projects that students create for the contest become more impressive.
The event challenges middle school and high school students in Loudoun County, Virginia, to develop and implement solutions to problems they've identified in their community. Local business and civic leaders judge the projects and award cash prizes for the best ones. YouthQuest provides most of the prize money.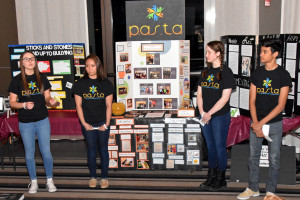 "This was our largest Step Up yet," said Loudoun Youth President and CEO Jared Melvin, who praised the "powerful, life-changing programs and messages" the students presented.
Fifty-nine teams – more than twice as many as last year – competed in the preliminary round on March 29 at Trailside Middle School in Ashburn.
YouthQuest Director of Instruction Tom Meeks was one of three dozen judges who narrowed the field down to 10 teams that advanced to the finals, held at The Club at OneLoudoun on April 6.
PASTA (Peers and Students Taking Action), won the $1,000 grand prize. The student-run group with chapters in seven Loudoun County schools operates volunteer programs and helps students find opportunities to serve the community. PASTA's recent projects include collecting more than 1,000 pounds of cereal and $400 in donations for a local food bank and raising $8,500 for a camp for children of cancer patients.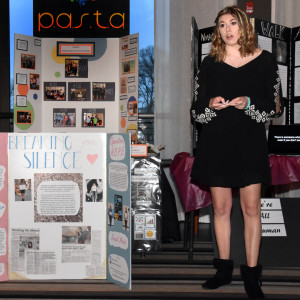 The $750 second-place prize went to Briar Woods High School senior Carmine Gothard for a project that stemmed from a traumatic childhood experience. Carmine was sexually assaulted when she was 7 and kept it a secret until two years ago. She created Breaking Your Silence to empower fellow survivors. Her project includes a support website and activities to help kids who've been sexually assaulted speak up and begin the process of recovery.
Members of the We're All Human team, who earned the $500 third prize, were also motivated by bitter personal experience with their chosen issue; suicide, the leading cause of teen deaths in Loudoun County.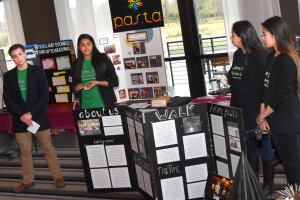 After two of their friends killed themselves in 2014, the Woodgrove High School students started a suicide prevention campaign. Their first annual awareness-raising event took place on April 6, just hours before the final round of Step Up judging. All 1,500 Woodgrove High students joined in a 1.5-mile walk around the school in Purcellville, then watched a student-made documentary that featured classmates talking about their struggles with depression and despair.
The teams that finished in fourth through tenth place each received $250 for projects that addressed issues ranging from bullying to homelessness to child car seat safety.
Over the years, Loudoun Youth Founder and Chairman Emeritus Carol Kost has noticed an increase in the number of projects that deal with bullying, sexual assault and suicide. She says it's important for the Loudoun's leaders to recognize that, even in the nation's wealthiest county, young people face many serious risks.
Not only do the Step Up teams help draw attention to those risks, they set an example for everyone in the county by taking action to solve the problems they see around them. That is why YouthQuest is proud to support the competition as part of our mission to serve at-risk youth.
Click here for a list of all the 2016 Step Up Loudoun Youth winners.