One of the many highlights of 2017 for our foundation was being nominated as Public Service Innovator of the Year by the Northern Virginia Chamber of Commerce for our 3D ThinkLink Initiative in March. The months that followed were filled with examples of our program's value in building better lives for at-risk youth.
"Our innovation is not that we introduce kids to 3D design and printing, it's how we use this technology as a vehicle to teach the important life skills at-risk youth lack, such as critical thinking, problem solving, creativity and the confidence to fail," said YouthQuest Co-Founder and President Lynda Mann. "3D printing is perfectly suited for showing kids who've failed in school that mistakes are part of the learning process – that they are the beginning of something good, not the end of something bad."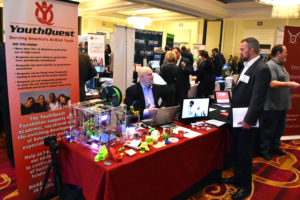 Being a Greater Washington Innovation Awards nominee gave us the opportunity to tell regional leaders about YouthQuest's life-changing work with young people like Aunya' Jones, a top student in our 3D ThinkLink class at Maryland's Freestate ChalleNGe Academy.
"Before 3D printing, I did not believe in myself, and I had accepted the opinion that I was not good enough," Aunya' wrote in an essay that earned her a $500 YouthQuest scholarship to continue her education.
"3D printing has helped guide me into making better decisions and gave me a new life skill along the way. It has really helped me understand my self-worth because now I know I can design my own future," she explained. "I now see the bigger picture to my life's problems and I'm not afraid to face them."
We also awarded scholarships this year to essay contest winners Asia Baker-Stevenson from Freestate and LaMarcus Corley from the District of Columbia's Capital Guardian Youth ChalleNGe Academy.
In his essay, LaMarcus described how the 3D ThinkLink experience changed his way of thinking. He said it helped him control his anger and improve his concentration.
"When I come to class, my whole mood changes," LaMarcus wrote. "I become happy because I know that I'm in a good place."
LaMarcus also said our class brought out the creativity he used to keep "all bottled in" and taught him how to "think about stuff differently."
A YEAR OF ACHIEVEMENT
Aunya' and LaMarcus are also two of the ChalleNGe Cadets who took part advanced training this year in the 3D ThinkLink Creativity Lab at our headquarters in Chantilly, Virginia.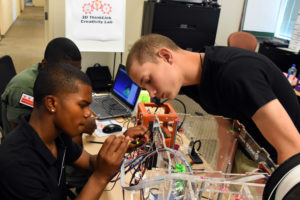 The June lab sessions focused on our project to train 3D ThinkLink graduates as Youth Mentors, giving them the skills and equipment to teach others about 3D printing and serve as positive role models in their communities. LaMarcus was there along with fellow Capital Guardian Cadet Adrian Vasquez, and David Kelly and Stephen Brown from Freestate.
Adrian told us during lab week that he used to have problems in school and our class helped get him back on track.
"I would get good grades, but my mind would always be on something else. So I got caught up with stuff I wasn't supposed to be around. But ever since I started 3D, my mind has been nowhere near that stuff," he said. "It's like therapy, a type of therapy. Working on 3D designs keeps me focused, not on the other nonsense stuff."
In December, we tried something different by taking our advanced training out of our lab and into the classroom at Camp Schwartz on the Capital Guardian campus. Cadets Keyonte Alston, Quadaija Hudgens and Alexander Price honed their design and printing skills during three days of training. A couple of weeks later, they graduated from Capital Guardian along with four other Cadets who completed our 3D ThinkLink class; Divine Carr, Markus Kemp, Keith Pettiford, and Herman Signou.
Throughout 2017, we repeatedly saw proof that what works for the teens in ChalleNGe academies also works for at-risk kids in other kinds of programs we serve.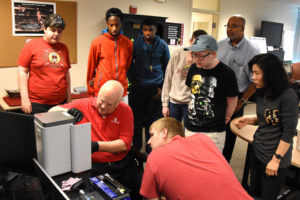 The PHILLIPS Programs for Children and Families has seen great success tailoring our curriculum for students on the autism spectrum. PHILLIPS was so pleased with the results of last year's 3D ThinkLink pilot project at its Annandale, Virginia, school that it expanded the class to its Fairfax campus this year. Some of the students from last year's class are now involved in a 3D printing club at the Annandale campus, too. It was a pleasure to have PHILLIPS students visit our 3D ThinkLink Creativity Lab in April.
It's also been gratifying to watch the growth of our partnership with Horizons Hampton Roads, an academic, cultural, and recreational program for kids from low-income families in Virginia's Tidewater area. We started with last year's Summer Enrichment Program, providing a 3D ThinkLink class for sixth-graders at a single site in Portsmouth. This summer, the project expanded to sites in Norfolk and Virginia Beach, reaching a total of 32 kids. The students were "engaged and challenged" by our curriculum, according to the annual report from Horizons Hampton Roads, and teachers were excited to try some new projects they'd developed that used 3D design and printing to support STEM lessons, such as creating a paddlewheel for a ferryboat.
"The 3D printing was a great experience," HHR teacher Franklin Baker reported. "From the design portion to troubleshooting, our students had to problem-solve from the first step to the last."
Highly skilled, enthusiastic teachers are the key to our program's success. That's why our teacher training sessions are so important. Teachers from several partner programs came to our lab for a week in February and October this year to learn about curriculum changes, software updates, and new printers and materials.
"We want to give them the best tools and motivate them to learn how to use those tools so they can be the best teachers for the at-risk students we serve," explained YouthQuest Director of Instruction Tom Meeks.
A YEAR OF GIVING
Giving back to the community is one of YouthQuest's core values.
One of the ways our organization gives back locally is by sponsoring the annual Step Up Loudoun Youth Competition. This was the sixth straight year we've provided the prize money for the contest, which challenges teens in Loudoun County, Virginia, to identify problems in their community and implement solutions.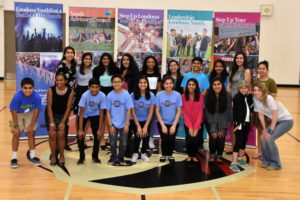 Kriti Ganotra from Broad Run High School earned the $1,000 top prize this year for developing a free device that detects computer network vulnerabilities.
"I want to bring it to Loudoun County, using high schoolers to create a community where everyone is educated about cyber-bullying, cyber-security, cyber-threats and technology," Kriti said in an interview with Loudoun Youth. "I want to bring this to every single house and eventually patent this into something that we can develop all around the nation."
YouthQuest supporters also gave back generously this year to make our 12th annual golf tournament a success. Even though it rained for the first time in the history of our signature fundraising event, more than 100 players and volunteers turned out at Trump National Golf Club on August 7.
We were especially pleased to welcome Insperity, Pure Storage and ePlus as new sponsors this year.
For the first time, the winning team received 3D-printed trophies that were designed and produced in our lab by Tom Meeks.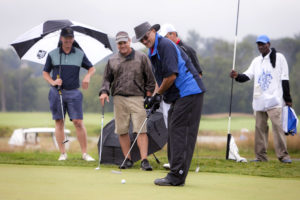 The tournament's Silent Auction raised more money than ever and we collected an additional $2,500 through a new fundraising tool, the Giving Tree. The tree displayed at the post-tournament reception and the August 3 VIP Reception hosted by Fleming's Prime Steakhouse & Wine Bar in Tysons was decorated with tags that were 3D printed in our lab. Each tag gave donors an easy way to provide equipment, supplies and other resources for our 3D ThinkLink students.
Also at the reception, we presented our 2017 Volunteer of the Year Award to Tammy Haug, National Sales Manager for AOC Solutions. Not only does Tammy volunteer at the golf tournament every year, she assisted us with our 10th Anniversary Celebration in Chantilly and the 3D printing workshops we conducted at the National Society of Black Engineers Convention in Anaheim, California, in 2015.
Our 2017 Community Partner Award went to Copy General in Sterling, Virginia, whose constant support for YouthQuest includes printing the program for the golf tournament every year. IMADE3D won the Strategic Partner Award. We've worked with IMADE3D since 2015 and are big fans of their JellyBox 3D printer kit. We have several of the printers in our lab and our advanced students always enjoy building and using them.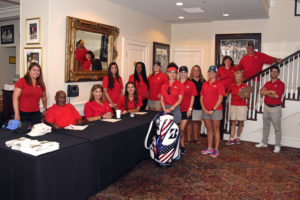 Our donors also gave generously on November 28, when we participated for the second year in #GivingTuesday, a global celebration of philanthropy. We also became part of AmazonSmile this year, giving Amazon users the ability to select YouthQuest as their charity. For every purchase they make, the AmazonSmile Foundation makes a donation to us.
2018 promises to be another year filled with innovations and expansion for us. We're eager to start the next round of teacher training in February, as that will be a major step toward reactivating our 3D ThinkLink program at South Carolina Youth ChalleNGe Academy, which has been on hiatus for a year. In previous years, SCYCA has been our largest 3D class site.
We are also working toward opening the 3D ThinkLInk Creativity Lab for use by the general public and we're planning a new fundraiser that we expect will be quite lucrative for us as well as for one lucky raffle winner. Stay tuned for details in the new year.
There's no need to wait to help us, though. We welcome contributions at any time of the year. Please click here or contact Operations Manager Juan Louro at juan.louro@youthquestfoundation.org or 703-234-4633.
Happy New Year to all our friends!
THE YEAR IN PICTURES