The YouthQuest Foundation's 3D ThinkLink Initiative reached new heights as the New Year began, thanks to our generous supporters and a group of outstanding students who took part in our Immersion Lab training.
The success of our annual golf tournament and other fundraisers made it possible for us to give at-risk youth better tools to strengthen their critical thinking skills and explore their creativity during a week of study at our headquarters in Chantilly, Va.
The YouthQuest Foundation provides a course in 3D design and printing for National Guard Youth ChalleNGe Academies, where high school dropouts get a chance to turn their lives around. Instructors at the Academies serving Maryland, South Carolina and the District of Columbia selected six graduates to receive 40 hours of advanced training in our lab during the week of January 5-9.
The first day of class felt a bit like Christmas morning when three large boxes containing CubePro 3D printers arrived. The students eagerly unpacked and set up the machines made by our strategic partner, 3D Systems, Inc.
The CubePros are a giant step up from the basic, single-color Cube2 printers they used at school. The CubePros are much larger, faster, more precise and can create two- or three-color objects in a single operation.
In addition, we gave each student a tablet computer loaded with the new version of Moment of Inspiration 3D design software.
Imaginations quickly shifted into high gear as the students discovered what they could do with these new tools. Their projects included customizing solar-powered robots, making parts for a simple prosthetic hand and experimenting with all sorts of creative, multi-color designs.
For each project, the students had to create a plan to turn an idea into reality using their knowledge of the software and hardware. They made test prints, studied what worked and what failed, and kept improving their designs until they reached their goals.
This process of working through problems to achieve success is the foundation of our 3D ThinkLink Initiative. The project is about much more than introducing at-risk kids to the burgeoning technology of 3D printing. Our goal is to help young people who've made bad decisions learn to think differently.
On the final day of Lab Week, we asked the students to make a list of the most important things they had learned. Among their answers:
DON'T GIVE UP
SLOW DOWN
ASK FOR HELP
FAILURE IS NOT FINAL
ACCEPT NEW CHALLENGES
There's nothing on the list about 3D printing specifically. Instead, these are lessons for building a better life.
To us, that means 3D ThinkLink Lab Week was a great success.
MEET THE STUDENTS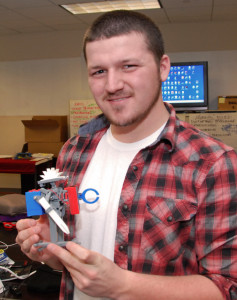 Dylan Foster, who plans to be an artist, took full  advantage of the new tools in our Lab. With a three-color printer available for the first time, he designed several red, white and blue creations, including a beautifully detailed chess piece. For his robot project, he made a battery holder that's simpler and works better than the one our Director of Instruction, Tom Meeks, had devised. Our classes also taught him to stay focused on his goals. "I used to give up a whole lot easier," he said. The South Carolina Youth ChalleNGe Academy graduate, who had never been so far from home before, said he "met a lot of good people" and gained valuable skills during the week in the 3D ThinkLink Lab. "It's worth the time you put into it," Dylan said. "You can learn a lot and do a lot."
Lessons Learned:
"Stay determined, never give up."
"If I make a mistake or get something wrong once, that's not the end of it … Try again and try again and try again."
"It's good to be creative."
________________________________________________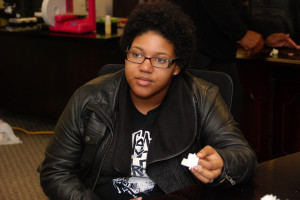 "Frustration was a big problem for me," Kamie Moody admitted. Our 3D ThinkLink classes became her "outlet" from the daily pressures at Freestate ChalleNGe Academy. "Every Monday, when I had 3D, I was excited," she recalled.  Kamie appreciated the chance to learn about CAD (Computer-Aided Design) software because it will help her pursue a career in architecture. Experimenting with Moment of Inspiration's new features brought out her creative talent. On a small scale, her designs look like jewelry, but on a large scale, they could be futuristic buildings. "The 3D ThinkLink program basically solidified what I already knew; that designing is something that I really want to do," she said.
Lessons Learned:
"Keep trying. Don't give up. It may be a little too complex at first, but if you modify it, it doesn't have to change completely. Just make it work for you and what you know."
________________________________________________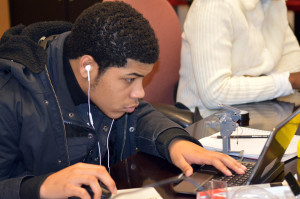 "3D deals with a lot of measurements, a lot of exact points. The smallest thing can mess up the result," Eric Wright explained. "Every step you take, you've got to make sure it's correct … If you mess up, you learn from your mistake." His favorite lab project was making a two-color replica of his iPhone, which required him to take precise measurements of every surface using a digital caliper. "The hardest part was getting the details right," Eric said, but he worked through the problem step-by-step until he succeeded.  Even though he'd never heard of the technology before joining our class at Capital Guardian Youth ChalleNGe Academy, Eric is so interested in 3D printing now that he'd like to work in the field. He hopes the training we provided will give him an advantage in competing for a job. "It's good because it opens you to do new things and see new things," said Eric.
Lessons Learned:
"Be creative."
"Think before you act and learn from your mistakes."
"Don't stress. Don't get yourself mad because you can't do something; just learn how to do it."
________________________________________________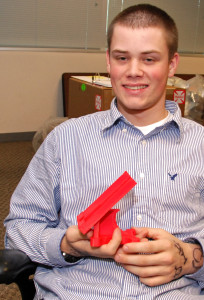 Our training might turn out to be a life-changing experience for Caleb Dujmovic. He was one of the top students in his 3D ThinkLink class at Freestate ChalleNGe Academy, where he said he enjoyed learning to make things for his family and friends. His favorite lab project was making a cellphone stand because it incorporated everything he'd learned during the week about Moment of Inspiration's new features. Caleb applies the problem-solving skills we've taught him to his current job in the construction business, but he's set his sights on a bio-engineering career. It's something he'd never considered until he visited the Maryland NanoCenter's Tissue Engineering Lab during Vocational Orientation Day. Learning how 3D printing is being used to create bones, blood vessels, skin and other tissues opened the door to a world beyond construction for Caleb. "Seeing the steps behind what they do made me more interested in it because it's like a puzzle of how to solve something or find something new," he said. "It showed me what I want to do in the future."
Lessons Learned:
"There's not just one way to do something."
"Trial and error – it goes hand-in-hand with life."
________________________________________________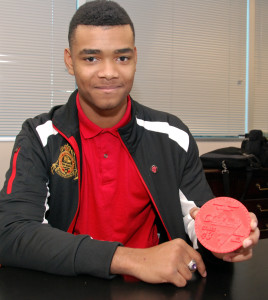 Nicknamed "Highspeed" by the staff at Capital Guardian ChalleNGe Academy because he was often ahead of his classmates, Christopher Coleman was first exposed to 3D design software in 8th grade. Later, he "really got hooked on 3D" in the Hirshhorn Museum's ARTLAB+ program. Our 3D ThinkLink classes taught him how to use new design tools and printers he'd never tried before. The self-described "loner" says he also learned to ask for help and work with others. "This program particularly helped me with a lot of my faults – things that I've got to improve," Christopher said. "I learned to be more humble … There's people that know stuff that I don't know, and they don't know things that I know."
Lessons Learned:
"If there's something that's hard, don't try to take the easy way around it. Keep going straight. Because if you keep going straight and play with stuff, you might find something new that will help you."
"Be open and try new things. Don't limit yourself. Go the extra mile for what you want to do."
________________________________________________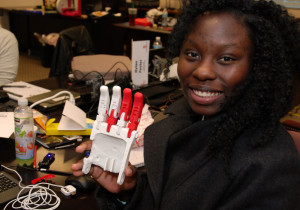 At first, Sherquana Adams didn't want to sign up for our class at South Carolina Youth ChalleNGe Academy because she thought 3D printing was "for geeks." But the more she learned about the many ways this technology is being used, the more interested she became. Sherquana, who aspires to be a surgical technician, was amazed by the medical applications for 3D printing. She thought it was "really cool" to put together 3D-printed pieces to make a kid-size prosthetic hand during Lab Week. "I now have a way to express myself," she said. In just a few months, her opinion of 3D printing has shifted 180 degrees: "This is not for geeks, this is for anybody!"
Lessons Learned:
"You can do anything you set your mind to."
"The sky is the limit and you should never doubt yourself."
________________________________________________
If you would like to help us expand our 3D ThinkLink Initiative, please CLICK HERE to make a donation or contact us at info@YouthQuestFoundation.org or (703) 234-4633.