The YouthQuest Foundation has awarded scholarships to two students who recently completed our 3D ThinkLink training.
Asia Baker-Stevenson from Maryland's Freestate ChalleNGe Academy and LaMarcus Corley from Washington DC's Capital Guardian Youth ChalleNGe Academy earned $500 each for the essays they wrote about the personal impact of their 3D ThinkLink experience.
YouthQuest provides instruction in 3D design and printing at the ChalleNGe academies to help Cadets develop critical thinking and problem solving skills, explore their creativity and gain self-confidence.
LaMarcus and Asia finished the 22-week residential phase of the ChalleNGe program in June and are now in the year-long post-residential phase, during which they work with an adult mentor to continue on the path to reach their potential as successful adults. The scholarship money is to be used for continued education or vocational training.
"Before I started 3D printing I was very insecure about myself. I thought I would never be good at anything," Asia said in her essay, adding that she struggled with using the computer and design software at first. But she learned from her mistakes and persevered, making step-by-step improvements with each new project.
"I've learned that starting something new is for a purpose and that purpose is to never give up or quit on yourself," she wrote. "I may not be able to complete things on my own, but I shouldn't be afraid of failure."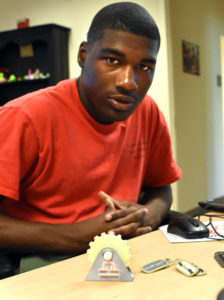 Like Asia, LaMarcus discovered that 3D ThinkLink changed his way of thinking. He said it helped him control his anger and improve his concentration.
"When I come to class, my whole mood changes," LaMarcus explained. "I become happy because I know that I'm in a good place."
LaMarcus also said in his essay that if he had a 3D printer of his own, he would start a business to make things like toys and parts for bikes and cars.
"The reason I would create these objects is because I know people are less fortune than others and it would let me give back to the community," he wrote.
Now LaMarcus has the opportunity to give back by being a Youth Mentor. In June, he and three other top Cadets from Freestate and Capital Guardian trained for a week in our 3D ThinkLink Creativity Lab. They received 3D printers, design software and laptops to use in sharing their skills with others in their community, serving as positive role models.
New York Times bestselling author John Gilstrap, best known for his Jonathan Grave thriller series, reads all the essays submitted and picks the winners in our semi-annual scholarship competition.
CLICK HERE the read the complete essays