A few years ago, when he was in our first 3D ThinkLink class at the District of Columbia's Capital Guardian Youth ChalleNGe Academy, college seemed like a long shot for Dalonta Crudup. Now, he's wrapping up a successful freshman year at the University of Kentucky.
"I love it!" Dalonta, 21, told us in a phone call from the campus in Louisville.
He's attending Kentucky on a basketball scholarship and plans to double-major in architecture and computer graphics. As if that's not enough, this energetic freshman is also working on his autobiography.
"I'm writing a book. It's basically about my life and how I grew up," Dalonta said. "I've got eight chapters already."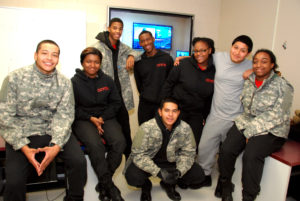 There's plenty of compelling material for the story of how he went from the streets of DC to the campus of UK; problems in high school, the killing of his best friend, a life-changing 22 weeks at Capital Guardian, completing high school and prep school, earning a full scholarship to play for one of the nation's winningest basketball teams. And that's just the last four years.
His experience in our 3D design and printing class at CGYCA is part of Dalonta's story, too.
"I do tell people about 3D class. When I tell people my name and you look up Dalonta Crudup on Google, my picture pops up in the 3D printing class," he said. "And I tell them taking that class has helped me a lot because it showed me how get through obstacles in life."
3D ThinkLink taught him not to give up, to ask for help and "keep trying until it's done." Dalonta said the experience gave him the confidence to take on other challenges.
He fell short of passing his GED exam by a few points at Capital Guardian, so he enrolled in high school in Frenchburg, Kentucky, and earned his diploma. Then it was on to Ridgeview Preparatory and Sports Academy in Hickory, North Carolina, to hone his skills as a point guard and shooting guard while taking classes to get ready for college-level academics. In his first year at the University of Kentucky, he's been working to recover from a knee injury so he can start playing for legendary coach John Calipari next season.
Besides basketball, architecture has been part of Dalonta's plan for years.
"I want to build my own house from the ground up," he told us at CGYCA in 2013 when he was 17.
Looking back now, Dalonta said, learning to use CAD (computer-aided design) software in our class helped convince him that he could handle architecture and design classes in college.
"After I learned 3D in class, I kept on doing it," he said. "I actually practiced at home with a program I use on my laptop computer."
A FINAL PROJECT, A LASTING LESSON
Dalonta's strongest memory from 3D ThinkLink class was creating a tribute to his best friend, Malik Spears – known as "Wiz" – who was fatally shot the day Dalonta entered CGYCA.
"He was like a brother and I was with him every single day," Dalonta recalled. "I was very sad. I was very frustrated."
Toward the end of the class cycle, Dalonta found an outlet for his emotions when the 3D ThinkLink students got their final assignment. They had to use the skills they'd learned to create any kind of ornament they liked.
Dalonta decided to make a memorial to Wiz with a poem he'd written about his friend. He wanted to make something that would "show appreciation from me to his family."
3D printing projects rarely turn out right the first time and putting text on an object can be especially tricky. It took three weeks for Dalonta to perfect his ornament.
"I was getting mad because we printed a lot and the words kept being smashed together and we had to keep switching up the size and the font to make sure you could read each and every letter and every word," he explained.
Dalonta's persistence paid off a few weeks later when he gave the ornament to Wiz's mother for Christmas.
"She actually started crying," he said. "It was a candlelight service and I stood in the middle of the crowd and read the poem."
Rest in Peace, Wiz. We miss you.
We thought of you with love today
But that is nothing new.
We thought about you yesterday
And days before that, too.
Dalonta's experience helped YouthQuest Director of Instruction Tom Meeks realize the importance of teaching our students to use text in their 3D designs. Now it's one of the first things they learn because students always want to personalize items with names or initials and give them to someone they love. Giving at-risk kids the skills and tools to create things that are emotionally meaningful motivates them to work through problems and achieve success.
"I used to be worried all about myself. Now, I think different. I look at life different." Dalonta said. "I worry about myself still, but now I worry about others around me, too. "