If there's anything we enjoy as much as having students in our 3D ThinkLink Creativity Lab, it's having teachers there.
Jonathan Brown and Jamarr Dennis from Maryland's Freestate ChalleNGe Academy and Keith Hammond from DC's Capital Guardian Youth ChalleNGe Academy came to our headquarters in Chantilly, Virginia, the week of September 25 to learn about the newest elements of our 3D ThinkLink Initiative.
"We want to give them the best tools and motivate them to learn how to use those tools so they can be the best teachers for the at-risk students we serve," explained YouthQuest Director of Instruction Tom Meeks.
"I'm always happy when I come out here," said Keith, who's been a 3D ThinkLink teacher from the beginning in 2013, when we launched our project to use 3D printing as a vehicle for teaching critical thinking and problem solving skills to at-risk youth.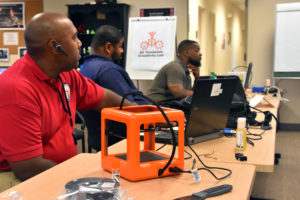 He praised the individual attention Tom provided during the training sessions, which included an introduction to new equipment such as the M3D Micro printer. The Micro is more versatile than the 3D Systems Cube printers we've used in classrooms for years and gives teachers more control over printing options.
Tom and the teachers also reviewed the new structure of the 3D ThinkLink curriculum. Based on the results from previous class cycles, we've reorganized the curriculum into blocks of four to five lessons, each of which which culminates with a benchmark project that involves all the skills students should have mastered by that point.
Jamarr, who's in his second class cycle of 3D ThinkLink teaching, thinks the new structure will help his students at Freestate stay on pace from week to week. He said the benchmark projects should show him if students have missed something important before they move ahead in the curriculum.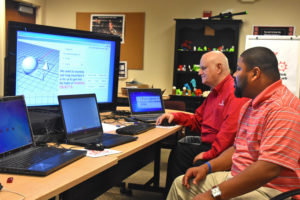 Jonathan, our newest 3D ThinkLink teacher at Freestate, was hesitant to get involved in the project at first because he wasn't sure he could devote the time and effort it takes to learn about the software and hardware. But when he spent a week in our lab as a chaperone for two Freestate Cadets who completed advanced training this summer, he was convinced.
"When I saw how quick the kids grasped it and how much fun they had with it, I said I'm absolutely coming back," Jonathan recalled.
As soon as a teaching position opened up, he volunteered. Within weeks, Jonathan was back in our lab working closely with Tom to become a 3D ThinkLink teacher.
"I'm here early every day because I'm looking forward to what we're going to pick up today. And Tom has matched all of my intensity," he said. "I'm looking forward to the challenge of trying to be creative and seeing where my mind takes it."
Tom will travel to the South Carolina Youth ChalleNGe Academy in Eastover next week to provide training for new teachers.