YouthQuest's 3D ThinkLink class at Maryland's Freestate ChalleNGe Academy did more than teach Brock Jasmann and Aunya' Jones about 3D design and printing.
"3D printing has helped guide me into making better decisions and gave me a new life skill along the way. It has really helped me understand my self-worth because now I know I can design my own future," Aunya', 17, wrote in her award-winning essay. "I now see the bigger picture to my life's problems and I'm not afraid to face them."
"I can make anything if I put my mind to it," wrote Brock, 17, who described his 3D ThinkLink experience as "awe-inspiring."
Both Cadets were awarded $500 scholarships for their essays during a ceremony at Freestate on December 9.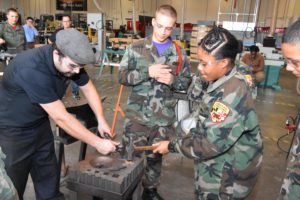 Our program "transformed my way of thinking," said Aunya', who plans to join the Navy and become a nurse.
"Before 3D printing I did not believe in myself, and I had accepted the opinion that I was not good enough," she explained.
Like most of the at-risk youth we serve, Aunya doubted herself when she started our class this fall.
"Everything seemed so foreign to me. I could barely work the program on the computer," she recalled.
When she printed her first 3D design and it came out nothing like she had intended, she admitted feeling frustrated and wanting to give up. Instead, she made up her mind to work harder so she could "make things that I could be proud to show off."
Aunya' started paying close attention to every instruction, asking questions and testing every new design skill she learned.
"One day my instructor Mrs. Metzger said that my design was the only successful one to print. It brought me so much joy because that meant that I was finally getting it," she wrote. "Joining 3D printing has taught me to never give up."
Brock's essay highlighted the effect his class's community service project had on his self-esteem.
The Freestate Cadets went to a library to demonstrate designing and 3d printing small, personalized objects such as ornaments and keychain tags.
"It was an amazing experience to see how interested and impressed the kids and adults were at the library when we showed them how to make 3D prints," wrote Brock.
"3D printing is important to me because now I can express myself in a form of art that I'm talented in. Also, I am more able to educate my community through my new learned skill in 3D printing," added Brock, who wants to become a Marine.
Brock and Aunya's essays were chosen from among 13 submitted by students from Freestate, DC's Capital Guardian and South Carolina Youth ChalleNGe Academies. The semi-annual scholarship competition is judged by bestselling author John Gilstrap, whose novels include the Jonathan Grave thriller series.
CLICK HERE to read the complete essays